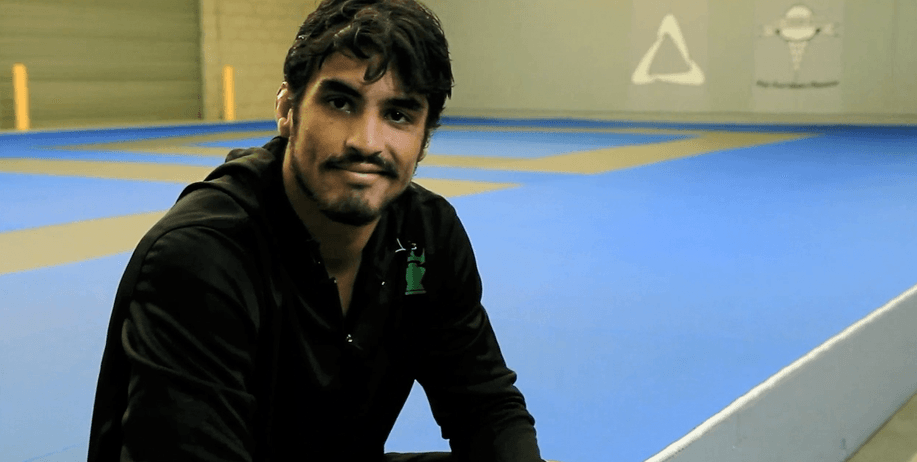 Kron Gracie is one of our absolute favorite fighters in the world of BJJ to watch. He represents a very particular, but very potent aspect of the Brazilian jiu jitsu spirit. We're very excited to see him transition to MMA as he fights in Japan this January. This highlight reel is an excellent introduction to him and his Brazilian jiu jitsu style.
Who is Kron Gracie?
He's the son of Rickson Gracie, potentially the greatest Brazilian jiu jitsu / MMA fighter yet. Kron is known for his aggressive style, his love for the traditional closed guard, a position that is currently not very popular, and his relentless pursuit of submissions. In fact, as he came up through the belt system, he won 51 matches in a row by submission at high level tournaments in Brazil and around the world. More bio info on Kron Gracie is available here. We've also posted a great interview with Kron here.
Why is Kron important to Brazilian jiu jitsu?
For us, Kron is important because he's a link to the history of Brazilian jiu jitsu. When we started training, fighters were far more interested in winning by submission, and as a result, fights were often decided that way. Nowadays, fighters in tournaments just want to win, and points-based wins are far more common. even more so, many black belt matches are so defensive and cautious that the result is decided by the ref, because no points are scored. For most of us, that is deeply unsatisfying. Kron is a throwback to a time when things were different, more fun, and more in line with the traditional spirit of martial arts. On an even simpler level, Kron is extremely fun to watch.
What can a Brazilian jiu jitsu student learn from Kron Gracie?
First, Kron is known for having a very "basic" style of jiu jitsu, which can be traced directly to the influence of his father, Rickson. Kron does not typically engage in many of the popular techniques of sport jiu jitsu, like 50/50 guard or the Berimbolo system. Instead, Kron's game is much simpler, relying on a lot of traditional closed guard. For us, the closed guard is still the heart of the Brazilian jiu jitsu world, which we have discussed at length here. The takeaway there is to have faith in the basics. Don't chase every new Brazilian jiu jitsu technique that comes along. Develop the basic positions of the game until they work in all situations against all opponents.
Secondly, Kron is relentlessly on attack. He never rests, he never lets the opponent dictate how the match will go. He never waits for the other guy to make a mistake. Kron is always moving, always attacking, always responding and countering. It makes it very tough for the othe guy to get his "a-game" going. A great example of this is the way that Kron plays open guard. Many people play open guard off their back, and there are many ways of doing so – De La Riva guard, spider guard, tornado guard, lapel guard, and lasso guard . However, when you play one of these, there is an agreement to go along with your opponent's want to put you on your back, at least for a time. Kron is constantly sitting up in open guard, constantly changing the position and attacking. Clearly, he is very well conditioned as an athlete, which allows him to do this. But the mindset involved is even more important.
Third, Kron is very well-rounded and is absolutely unafraid of the takedown game. He clearly works on it consitiently, and you can see that just wthing this highlight, he has a good vocabulary of both wrestling and judo takedowns, and he can use them from many position.s This fits very well with his desire to get up off his back. He often creates space in open guard, gets up, and immediately engages the takedown. This is very different from the current style of sport jiu jitsu, which our teacher often describes as "ping-pong style", where fighters bounce back and forth between well-established positions. It's as if they want to see if their open guard game is better than the other guys' guard passing game. Kron just wants to finish them. His style is very inspirational in that regard.
I can't wait to see what he does in MMA. We'll have more details on how to watch that fight as they become available. For now, Youtube is full of videos of his fights, and I highly suggest you watch some.
MORE INFORMATION ON BRAZILIAN JIU JITSU IN DENVER FOR CHILDREN AND ADULTS, VISIT HTTP://WWW.ALCHEMYMARTIALARTS.NET OR GIVE US A CALL 303.900.8111
WE SERVE THE CENTRAL DENVER AREA, INCLUDING THE BAKER, HIGHLANDS, WASH PARK, CONGRESS PARK, CAPITOL HILL, DOWNTOWN, UPTOWN, GOVERNOR'S PARK, AND CITY PARK NEIGHBORHOODS. WE'RE LOCATED NEAR 8TH AVENUE AND SANTA FE DRIVE, CLOSE TO EVERYWHERE.