Dark Horse Combat Club
Class Times: Denver Location
Flexible classes offered on a variety of days and times! You are sure to find a class that works for you!
Download Schedule
Current Denver Class Schedule
Traveling from out of town and want to train? Come on down! $20 Mat fee for access to all classes for the day, no uniform requirements (blue or white gi preferred). Loaner gis available for the day, rental gis available by the week.  Shower available.
Fundamentals Class: Fundamentals Curriculum.  All are welcome!
All Levels Class:  Subject to change based on average level of the room.  All are welcome!
Intermediate +:  Must be Green Belt or above OR ask the instructor beforehand.
Endurance Class: 2 stripe white belt or above.  Less technique taught, more drilling and sparring!
Women's Class:  All women are welcome for free, no membership required!  Newcomers must schedule a free orientation class before attending!
5×5 Porrada (Poh-Hah-Duh): Five, five minute rounds of rolling (sparring) – All welcome!
Open Mat: Free and open to all with previous experience, not just Dark Horse members.
Check out our Instagram & Facebook for temporary schedule adjustments or holiday schedules!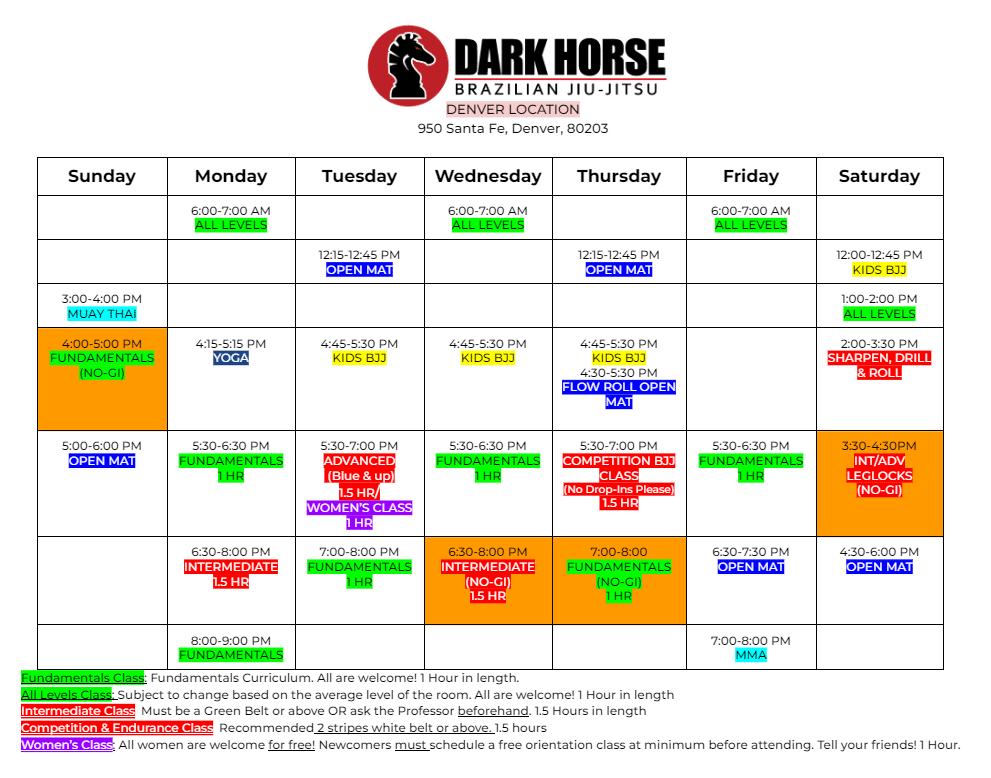 Are you interested in what Dark Horse has to offer you?
Learn More