Dark Horse Combat Club
Instructors
At Dark Horse Combat Club we are a family, and our school is bound to become our students' second home. We are a judgment-free zone, where mistakes are viewed as growth opportunities and your instructors and fellow students are your #1 supporters. You'll learn a lot of impressive skills and gain many new abilities at Dark Horse Combat Club, but the most important thing you'll acquire during your time here? Our community.
Dark Horse Combat Club
Instructors
Here Dark Horse Combat Club, our staff is the secret to our student success. Each instructor has a rich background in martial arts and is eager to train the next generation of martial artists. Meet the team below!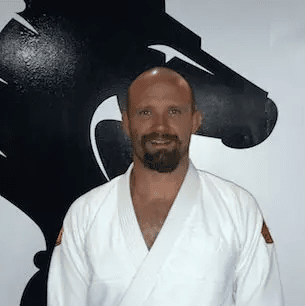 Owner, Head Instructor
Andrew "The Dude" Dudderar
Professor Andrew Dudderar is a Brazilian Jiu Jitsu Black Belt under Amal Easton of Easton Brazilian Jiu-Jitsu. He is known for being impervious to chokes and for having a strong focus on the mental aspects of training. Despite his intimidating appearance, Andrew has a sincere and inspiring love for helping others achieve their goals in Jiu-Jitsu, and quickly became one of the most beloved teachers in the local community.
Andrew wrestled in high school before going on to play college football. He started training Brazilian Jiu-Jitsu in 1999 under the venerable Rafael Lovato Sr. He moved to Boulder in 2000, and began training with Amal Easton in 2001. After receiving his bachelors degree in Psychology from CU, Andrew moved to Rio De Janeiro, Brazil to live and train at the birthplace of the martial art for two years. Andrew then received his brown belt from the Gracie Barra patriarch, Carlos Gracie Jr. and his black belt from Amal Easton.
Lineage: Mitsuyo Maeda – Carlos Gracie Sr – Carlos Gracie Jr – Helio Soneca
Highlights of his competition record include:
2012 Master's World Championships 3rd Place (Black Belt)
2008 World Championships 3rd Place (Brown Belt)
2005 Pan American Championship 2nd Place (Blue Belt)
Read More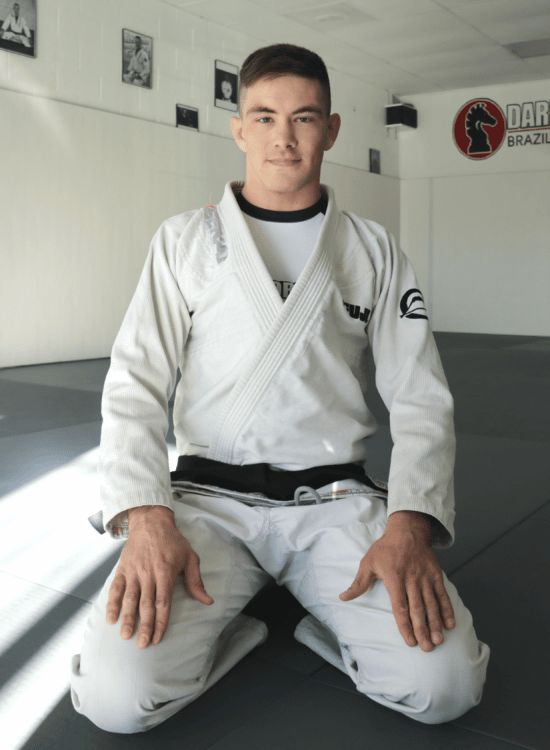 Head Coach & Professor
Eric "Cobra" Coe
F2W Pro's Former Brown Belt 170lb Champion, Professor Eric Coe began training in the art of Brazilian Jiu-Jitsu in 2011 at Dark Horse BJJ, and never looked back. He started competing after three months of training and preparing for competitions has become a major focus of his Jiu-Jitsu career. His other passion is teaching, sharing love for the art with children and adults alike. In 2013 he placed 3rd in the Pan American games in the blue belt lightweight division, the highlight of his competition record so far. Professor Eric has also taken countless gold and silver medals in local promotions. Eric was promoted to black belt in September 2021 and started his career as professor in the same month!
Professor Eric likes working out when he's not on the mats.
Favorite Submission: Triangle
Read More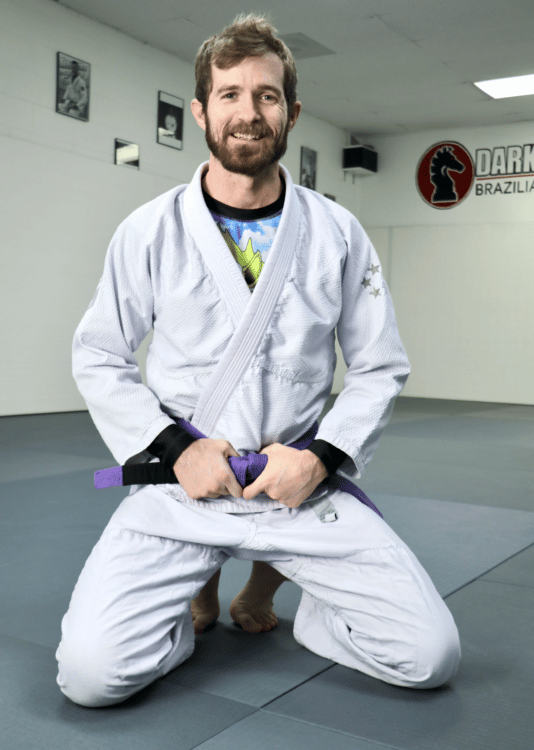 General Manager & Coach
Phillip Tearse
Phill started training Jiujitsu in 2016 at the age of 31 in Oakland, CA.  He attained his blue belt under Adam Lowry (Tom Knox, Cleber Luciano) in late 2017.  He then moved to Denver in early 2021 and started training at Dark Horse Denver, being awarded his purple belt in Oct 2021.  He also has been a rock climber for the past 14 years, enjoys playing hockey, and snowboarding.  His favorite submissions are the cross collar choke and triangle.
Read More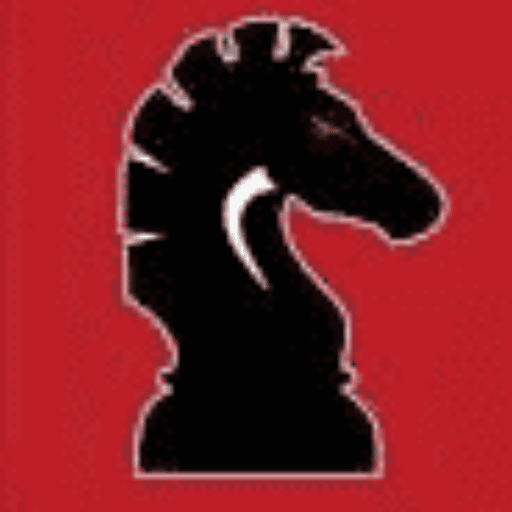 Leglocks and Nogi Fundamentals
Cade Leuker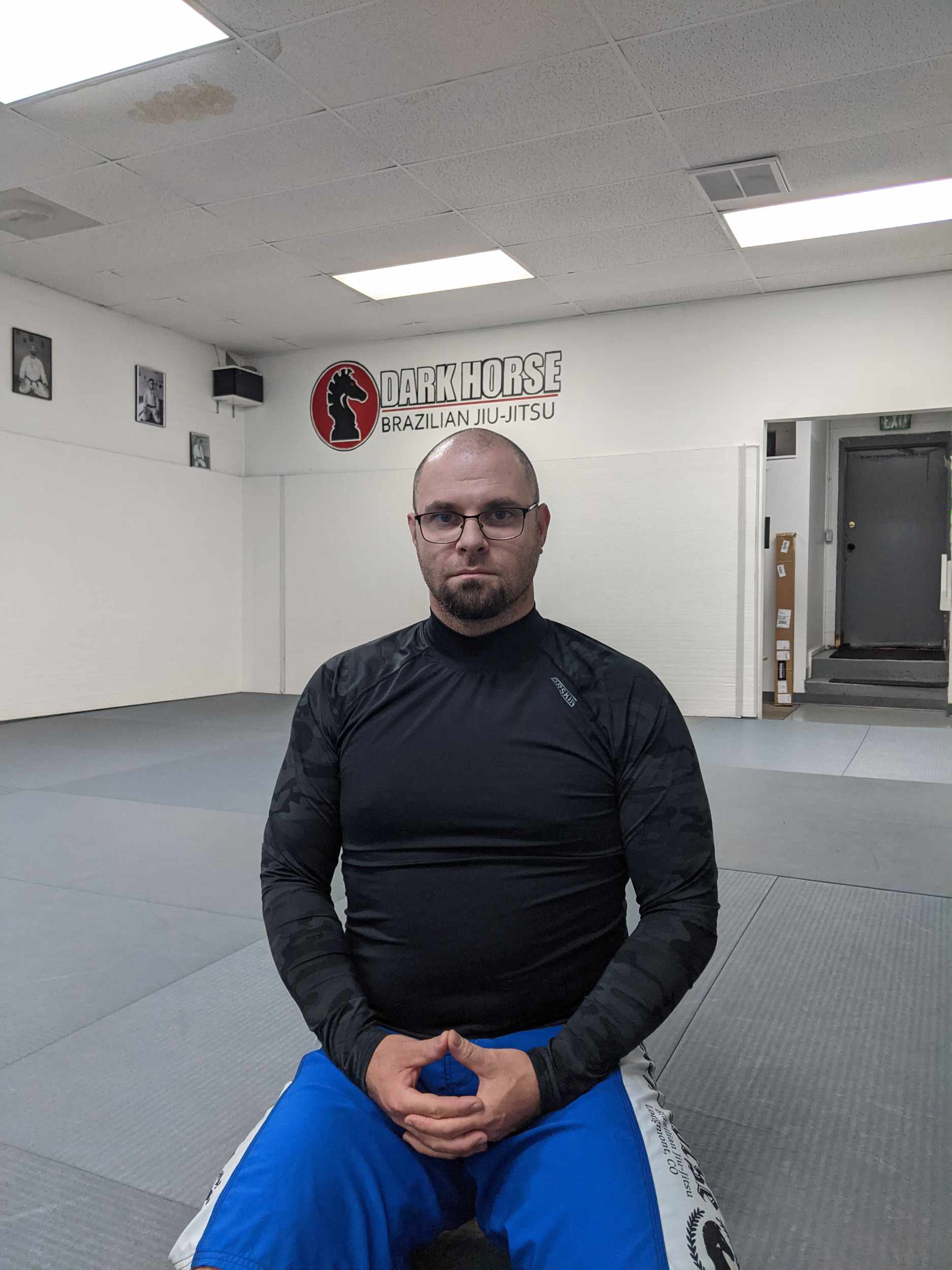 Striking & MMA coach
Dave Tamarchenko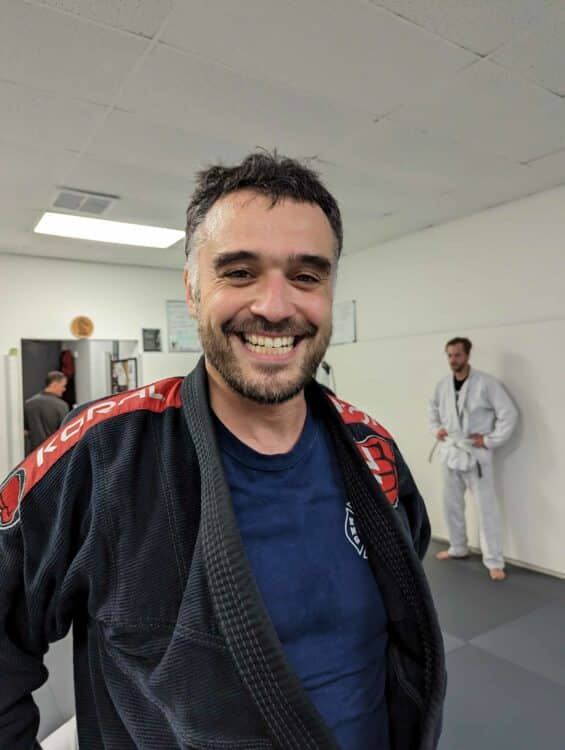 Fundamentals Instructor
Thiago Leao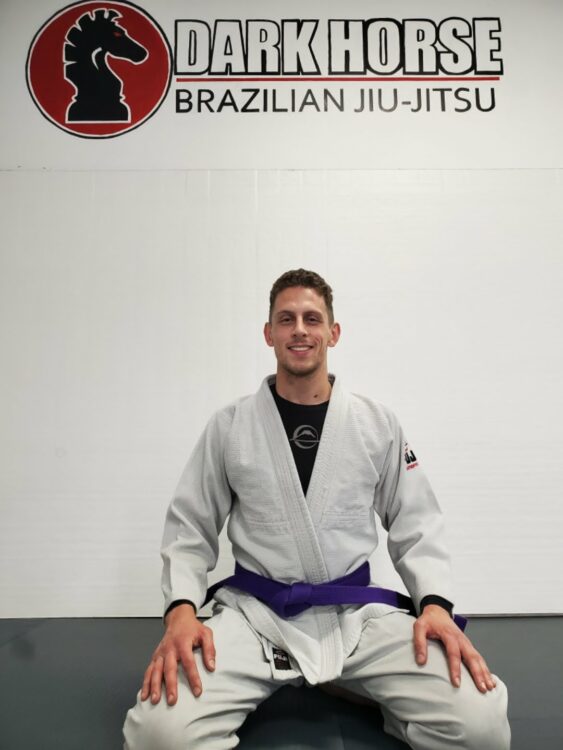 Coach & Orientation Instructor
Lucas Hennessey
Lucas started his Brazilian Jiu-Jitsu journey in 2017 at Rochester Phoenix Martial Arts under Jason Eggleston. He's been with us since September of 2019 and received his blue belt Winter of 2020, and purple belt in spring 2022. He's always had a knack for teaching and showing new folks the ropes. We knew he'd be a great candidate to help us coach some orientation classes and cover class when necessary. His favorite submission is the Sliding Collar Choke and his favorite thing about Brazilian Jiu-Jitsu is learning self defense against bigger opponents and learning the resilience required to not give up in bad positions.
Off the mats he enjoys camping, playing music and going to concerts.
Read More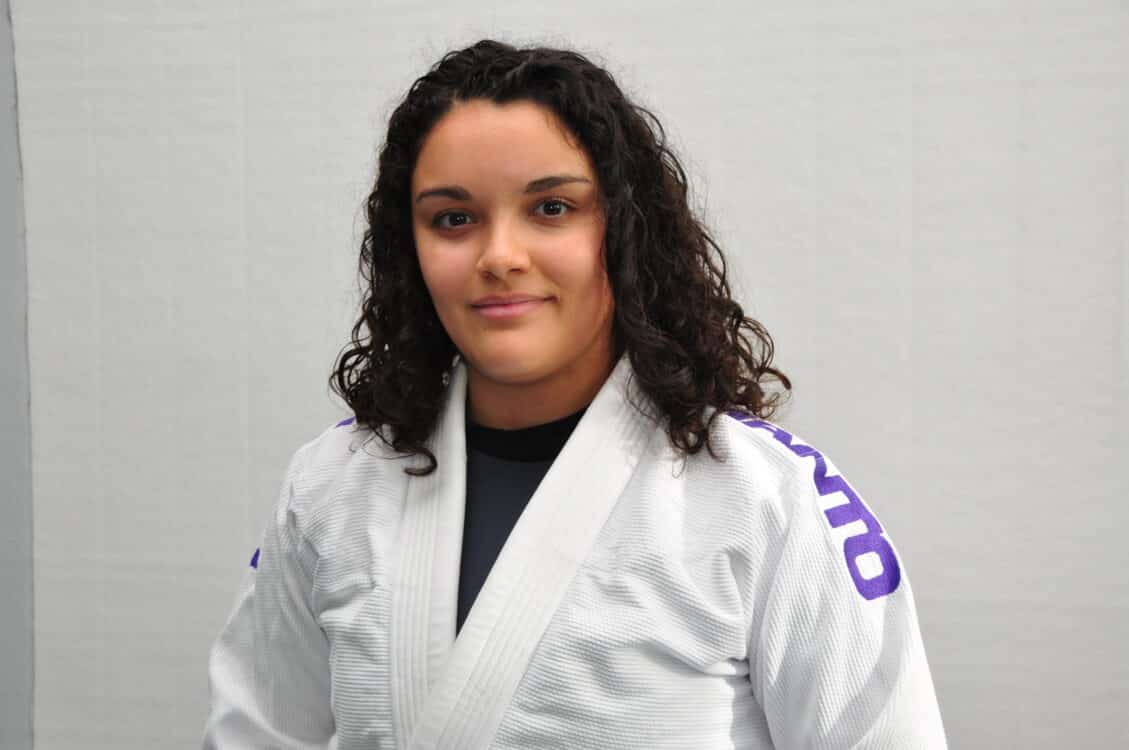 Womens Class Instructor
Joanna "Mojo" Lara Nuñez
Joana is a born and raised Colorado native and started training Jiu Jitsu in 2014 right before she started college at the University of Colorado Boulder. She started training Jiu Jitsu to learn how to defend herself but once she got her first taste of what a triangle was she was in love. She attained her purple belt from Andrew Dudderar in 2019 and is the women's class head instructor. Her favorite hobbies outside of training include embroidering, playing guitar, powerlifting, and playing with her cat Amor.
Read More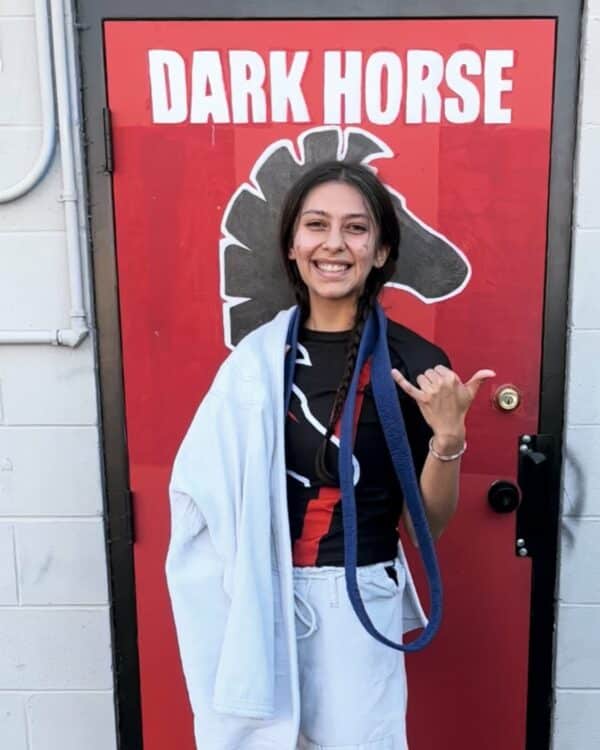 Lead Kids Coach
Arianna Gracia
At 17, Arianna started Jiu-Jitsu in Tucson, Arizona when she was tasked with cleaning her uncle's academy twice a day as a grounding punishment. She was intrigued by the discipline that the sport imposed and hopped on the mats. She moved out to Denver in 2019 and has been training at Dark Horse Combat Club since then. Off the mats Arianna enjoys hiking dogs, reading, and practicing yoga.
Read More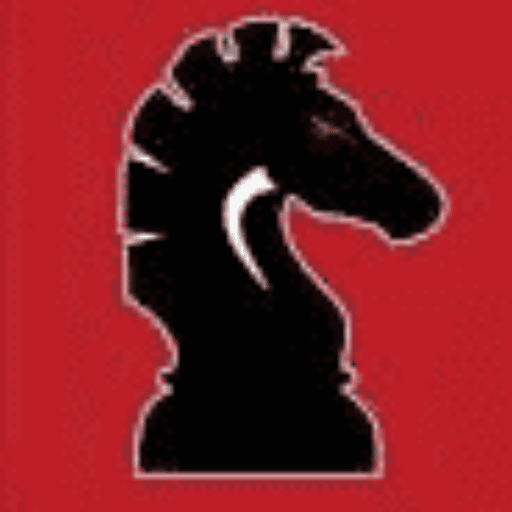 Fundamentals & Kids Coach
Jake Montgomery
My ten year old has been coming here for 3 months and we couldn't be happier! After trying 3 different martial arts schools, we were thrilled to find Dark Horse! The classes are really fun for the kids but well structured, intense, and organized extremely well. The teachers are so knowledgeable and help the students one-on-one all the time. My kid LOVES coming to class. Along with learning the most useful martial arts out there, they also put a huge focus on character development. This place is a true gem!
Dark horse is an amazing place to start or continue your fitness/life skills journey. Extremely knowledgeable professor's and coaches dedicated in helping you grow and excel at the classes you are attending. To anyone wondering if this school is worth it, In my experience so far, this is the best place to battle depression, lose weight, and meet supportive people while having fun doing it. You also are gaining priceless knowledge every time you step foot into the building. Their kids self defense program is unlike anything our family has experienced, super engaging and encouraging for the children. Wish we would have made the choice to join years ago.
2 months in and my boys are hooked! One would think that the coaches In the children's class have an education in early childhood development, because of the way they interact with the students. Always so encouraging and engaging. When I get the chance I enjoy watching their classes, it's always fun and entertaining. I don't feel like my family is treated like a number But rather we feel more like part of their family. It's like a breath of fresh air in this crazy commercialized world that we live in now.
Never thought I would like Jiu Jitsu. Didn't wrestle in school. Close to middle aged, overweight, and out of shape. Needed something active during/after Covid. Decided to try Darkhorse and so thankful I did. This place is like a family. They support you in your goals and everyone is supportive when you first start and feel all awkward. There is no pressure to compete but there are coaches to support you if you want to compete. If this was an ultra competitive "gym" it wouldn't be right for me, but I absolutely love this place (3 days a week, for 6 months now, trying to get healthy and learn some skills along the way are my goals).
I'm so grateful for Dark Horse, it is such a positive impact in my life. In the 6 months since my 6 year old son and I have joined, I've seen so much mental, spiritual, and physical growth in both of us. The coaches are full of knowledge, patience, and passion for jiu-jitsu. Everyone at Dark Horse is so supportive of each other no matter what your goals are. I just can't put into words how appreciative I am for Dark Horse and every single person I have met there. I have found a new passion, great friends, and self confidence.
The instructors are friendly. The facility is clean and neat. You feel like you're apart of a community when you're there. It's an overall excellent place to train.
Welcoming atmosphere, patient and knowledgeable coaches, skilled and friendly students that challenge you in every way. Couldn't have found a better BJJ gym in Denver!
This is a training environment full of incredibly talented martial artists, minus the attitude and swagger you find in so many places. Every single person in this gym is there to help each other get better. I love this place and these people.
Wonderfully exhausting!! I'm a visitor from California and Dark Horse Combat Club welcomed me like family. Coach Jason was knowledgeable and energetic. The entire team all work well improving each other's game. Great teamwork...family atmosphere! Will definitely visit again if I am back in Denver!
Dark Horse Combat Club is an excellent place to learn jiu jitsu. The technique taught here is nuanced and the lessons are well structured. The students and teachers are all very friendly and there's a great sense of community. This is where I first started training jiu jitsu and it gave me a great foundation which I rely upon every time I'm on the mats.
Are you interested in what Dark Horse has to offer you?
Learn More