Alchemy Combat Club, RIP 2014-2016

The name change is official - Alchemy Combat Club is gone. Long live Alchemy Combat Club. Dark Horse Combat Club is here to stay. The website has changed to darkhorsecombatclub.com. All the old email addresses will still work, but moving forward, hello@darkhorsecombatclub.com is the main email address. Our phone number is still 303-900-8111. Students really shouldn't experience too much in the way of changes around the academy. Stay tuned for Dark Horse t-shirts and hoodies, and please take advantage of your opportunities to visit the Longmont academy for classes whenever you can.
UPCOMING EVENTS
Autumn Party and Promotions - 10/22/2016: Anderson Farms.
We have reserved pavilion 5. October 22, at 3:15. The entire Dark Horse community will come together to celebrate the changing of the seasons, and give out some belt promotions. More information about Anderson Farms is available on the Anderson Farms website. This is a very family friendly place that is great for kids. Please plan on it being quite busy, as it's the peak of their season. Plan on heavy traffic and arrive early, especially if you want time for your kids to enjoy the petting zoo, corn maze, pumpkin patch and train rides. There is no alcohol and only service animals are allowed. All the details are on the Facebook event.
Fight to Win Tournament - 11/19/2016.
-Fight to Win puts on the absolute best local tournaments and this is the last one of the year. If you're interested in competing, please speak with Professor Charles or Coach Jason. If you'd like to come out to cheer, please do so. For information on location, rules, and weight classes check the Fight to Win website.
Fight to Win Pro 18 - 11/4/2016
Fight to Win Pro is America's best BJJ competition series and is homegrown right here in Colorado. This is the 18th edition of the event. The Fight to Win team has traveled from coast to coast all year, hosting events nearly every weekend. These events have featured the best Brazilian jiu jitsu fighters in the world as well as local talent. More details are available here - this event is not to be missed and is a great way to support the local BJJ scene.
Dark Horse Holiday Party and Promotions - 12/10/2016: More information TBD
Metamoris Challenger Tournaments: 1/14/2016 & 1/15/2016 (gi tournament), 2/11/2016 &2/12/2016 (no-gi tournament).
-Metamoris is one of the biggest BJJ competition platforms in the world, and they've launched a new series of tournaments starting in the winter of 2017. For more details, check their website here.

September Facebook Check-In Charity Results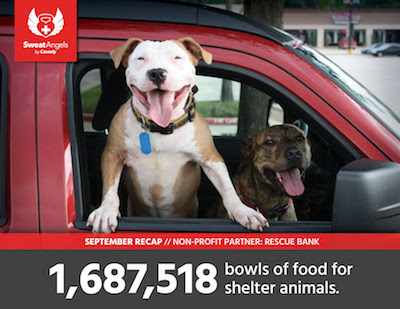 In September, the Dark Horse community crushed it! Our Facebook check-ins, through the good people at Causely raised money for the excellent work that Rescue Bank does to support animal rescue nationwide. Nationally, all the Causely locations teamed up to donate 1,687,518 bowls of food for shelter animals. That's literally tons of food. Here at Dark Horse Combat Club, we checked in 373 times and contributed 1492 bowls of food to that total. Excellent work!
October Facebook Check-In Charity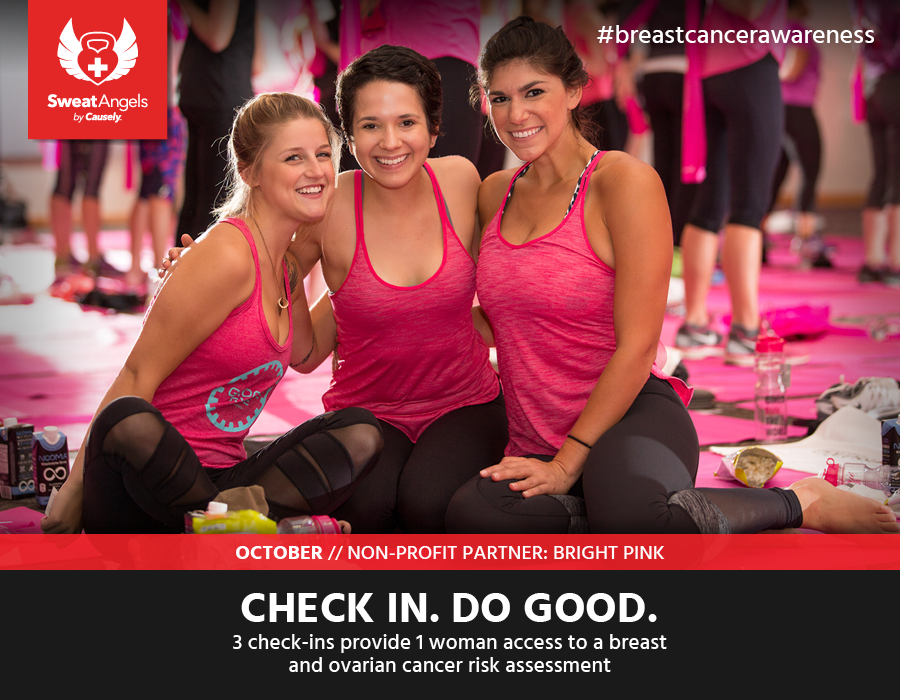 October's Facebook check-in charity is Bright Pink, an organization dedicated to providing cancer risk assessments for breast and ovarian cancer. Many women simply do not have access to good health care, and may be at sever risk for these common, treatable, but deadly cancers. The key to beating cancer is early detection, so these cancer risk assessments are critical. Every three check-ins provides one risk assessment for a woman in need, but if you follow the directions below, you can triple that.
Special Facebook Check-In Directions for October- Breast Cancer Awareness Month

This month, Sweat Angels is tripling your Facebook check-in donations for Bright Pink simply by following these directions, and helping honor those who've been affected by breast cancer. For each check-in that follows these directions, Causely will donate one cancer risk assessment - triple the normal donation.
Check in at Dark Horse Combat Club on Facebook, either on your phone while at the academy or on a computer by searching for this location.
Add a photo of yourself holding a sign with the name of the person or people you want to honor
Make your check-in public (This is important! If you don't we can't count it)*
Tag @Causely (If you have an Android phone, you might not be able to tag Causely, so just use use #wefightcancer instead)
Here's an example of how to check in correctly and unlock this donation: