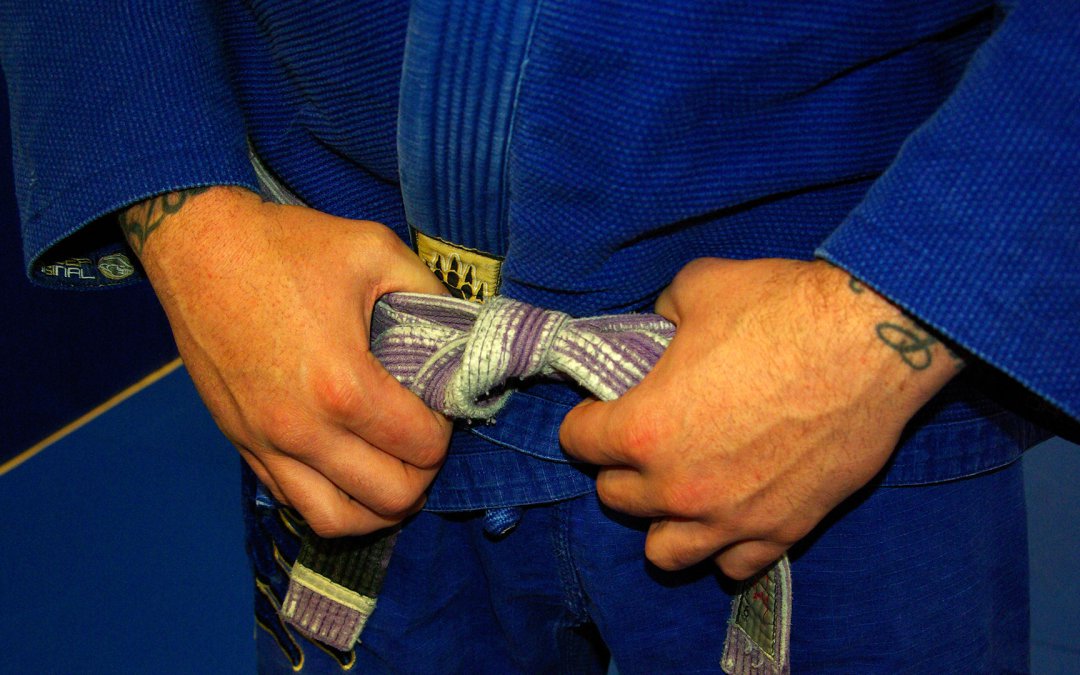 Recently, we posted a lengthy discussion about belts, promotions, integrity/standards, and BJJ vs. other martial arts. That post featured much discussion about belt promotions and how some schools opt to use belts and promotions as a more of a revenue source than a legitimate marker of progress. These schools come up with more and more belts, more and more stripes, and more and more fees associated with either.
Brazilian jiu jitsu, however, has always prided itself on a fairly minimal belt system. In general, most BJJ schools use the system established by the International Brazilian Jiu Jitsu Federation and illustrated here. Historically the IBJJF is technically not a governing body – it's more of a promoter of events and competitions – but they've recently begun to expand their reach into belt validation. The idea is that while they do not actually award or certify the belt ranks quite in the same way that USA Judo does, the IBJJF wants to make sure that the BJJ belt ranks out there are as legitimate as possible. So they do some certifying of belt ranks, and they establish a standard that most schools follow.
In the standard BJJ belt ranking system, there are 5 belts: white, blue, purple, brown, and black. The IBJJF gives some guidance for the length of time spent at each belt, but this is at the discretion of the teacher. There are many different criteria used by teachers to assign belt ranks. Performance is a huge part of BJJ rank. This is not news, most martial arts claim that they do this. One difference between BJJ and other martial arts is that BJJ does not use "kata" or stylized series of moves performed without an opponent, or sometimes with a non-resisting partner. Instead, most BJJ teachers use some combination of knowledge assessment and real performance. They want you to know what you are supposed to do in a variety of situations, positions, and scenarios, and they expect you to be able to do those things against resisting opponents. This is often a much more challenging assessment than a "kata" test based on a series of stylized movements. BJJ rank has a reality that is much more difficult to attain, and much more useful.
This is a point of pride amongst BJJ students because this system is based on integrity. It cannot be faked or bought. You cannot fake your way into being able to perform well against a resisting opponent, and you cannot buy it. BJJ is certainly not the only art to test and promote this way. ( here's a video of a Kali, an Indonesian stick fighting art, using realistic rank testing). Arts that test this way enjoy the reputation of integrity, realism, and effectiveness. Arts that focus on stylized moves, breaking boards, or other non-combat applications do not enjoy this reputation.
In practical terms, a BJJ blue belt takes roughly 2 years. A blue belt in BJJ should realistically be able to defeat a black belt in most other arts. The purple belt takes another couple of years, and another year for brown belt. The average time to reach the rank of black belt in BJJ is around 12 years. I often see Tae Kwon Do and karate schools advertise a 3 year black belt program. The question is, what have you actually earned?
BJJ schools have worked hard to preserve a system of belt testing that is simple, realistic, generally transparent, and based on integrity. Any martial art worth learning should be able to say the same.
LOOKING TO TRY BJJ? FOR MORE INFORMATION ON BJJ OR JUDO FOR ADULTS, VISIT HTTP://WWW.ALCHEMYCOMBATCLUB.COM OR GIVE US A CALL 303-900-8111
DARK HORSE DENVER COMBAT CLUB SERVES THE CENTRAL DENVER AREA, INCLUDING BAKER, HIGHLANDS, WASH PARK, CONGRESS PARK, CAPITOL HILL, DOWNTOWN, UPTOWN, GOVERNOR'S PARK, AND CITY PARK NEIGHBORHOODS. WE'RE LOCATED NEAR 8TH AVENUE, I-25, AND SANTA FE DRIVE. WE ARE CLOSE TO EVERYWHERE AND CONVENIENT FOR COMMUTERS.