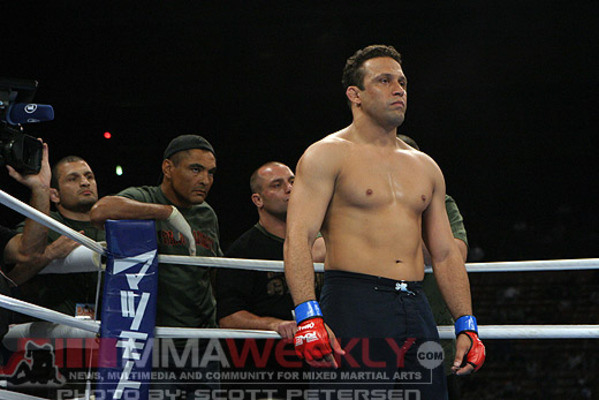 Often in Brazilian jiu jitsu we talk about how we don't want to have to rely on raw power to achieve our goals. Whether that goal is a macro level goal (win the fight) or a micro level goal (get out from underneath the opponent), power is the last option. The reason for this is that it's exhausting to have to use your muscles all the time. As master Saulo Ribeiro says, "If you muscle, you tire. If you tire, you die." Using other attributes – strategy, flexibility, leverage, timing, and so on – all cost much less energy than muscle. That's why we emphasize them so much.
This classic early MMA match is a great example of that. It features Renzo Gracie, a true legend in MMA and BJJ. If you're not familiar with him, check out a full write-up on him here at BJJ Heroes. His opponent is Phil Benedict, an NCAA champion wrestler. From the outset, you can see that Benedict is the bigger, heavier, stronger man. Even though he is shorter than Gracie, he is a hulking beast of a man. And his entrance into the arena is just that- he's practically busting out of his skin, laser focused, tense, and breathing short and heavy. Renzo, however, looks quite relaxed. He's clearly the smaller man, although a bit taller. He's focused, but relaxed. Benedict looks like he couldn't get wound up any tighter. He's ready to smash something.
As soon as the action begins, it's easy to see this playing out (in retrospect) pretty predictably. Benedict moves forward like a bulldozer and attempts to decapitate Gracie with every punch. This is a bare-knuckle match, so any one of those punches could really be a knockout blow. But Benedict's power makes him very tight, very predictable. He over-reaches terribly with his punches, and Gracie has no problem avoiding them. In fact, that over-reaching, attempted-knockout strike leaves Benedict very open to the takedown. He is taken down, easily, by the non-wrestler Gracie. That shouldn't happen, based on his background. But it does, less than a minute into the fight.
Once it hits the ground , it gets worse for Benedict. Clearly lacking the presence of mind to think about escaping, he wastes all his energy punching Gracie from the bottom. But all his strikes hit Gracie in the armpit, accomplishing nothing. Gracie simply smothers him and begins to punish him with lighter, but more plentiful strikes. What's really interesting here is that Gracie, the lighter man, has no trouble holding down the much stronger wrestler. Not only can he hold him down, but he can avoid any meaningful damage from Benedict's strikes and lay on plenty of his own. This is Brazilian jiu jitsu at work – the smaller person using leverage, position, technique to overcome the strength disadvantage. He continues to rain down blows, and Benedict taps out after only a couple of minutes.
Gracie calmly gets up. He's not exhausted. He offers a hand to Benedict to help him up, but Benedict can hardly stand. This particular image – Benedict leaning heavily against the cage while Renzo calmly parades around, is a powerful metaphor for the difference between the fighting style of Brazilian jiu jitsu versus the fighting style of wrestling. Said another way, it's the matchup of technique versus brawn. Brawn doesn't look so good.
READY TO GET STARTED? FOR MORE INFORMATION ON BRAZILIAN JIU JITSU FOR CHILDREN AND ADULTS, VISIT HTTP://WWW.ALCHEMYCOMBATCLUB.COM OR GIVE US A CALL 303-900-8111
DARK HORSE DENVER SERVES THE CENTRAL DENVER AREA, INCLUDING BAKER, HIGHLANDS, WASH PARK, CONGRESS PARK, CAPITOL HILL, DOWNTOWN, UPTOWN, GOVERNOR'S PARK, AND CITY PARK NEIGHBORHOODS. WE'RE LOCATED NEAR 8TH AVENUE AND SANTA FE DRIVE, AND ARE CLOSE TO EVERYWHERE.