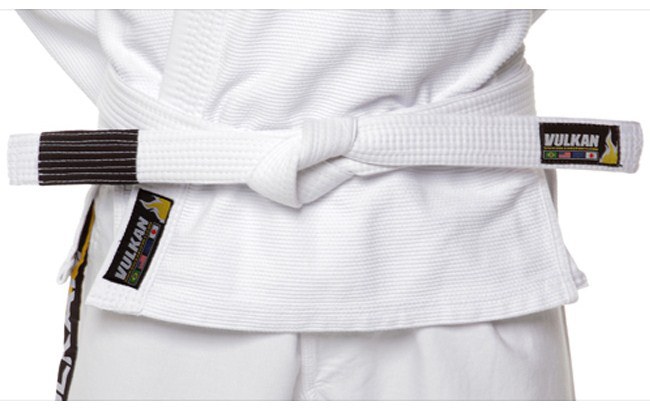 Your first few months of class as a beginner BJJ student are a very rich learning environment. There's a lot of simple, practical stuff to learn, like tying your belt and remembering to bow on and off the mat. You've also got to try to remember people's names, learn the names of the positions, and try to remember what the technique from last night's class is called. It's a lot to learn. While you're learning all that, though, you're also learning some bigger-picture lessons that will stick with you for a long time. Here are some of my favorites, from when I was a beginner.
1. Laundry
You'll develop a different relationship to laundry. On the one hand, you'll feel a little oppressed by it – constantly washing your kimono, waiting for it to dry, generating tons of "gym clothes", etc. On the other hand, you'll develop a profound appreciation for partners who are on top if it. A stinky training partner is just the worst. You'll learn to love people with good laundry habits, and fabric softener usage is key. (Here are some key laundry tips, FYI)
2. Bruises.
You'll get tired of people asking you, "What Happened? Are you OK?" You just acquire lots and lots of little bruises, all over the place. It comes with the territory. It's sometimes frustrating for women, whose clothing tends to be a bit more revealing. But You'll learn to think of these bruises as a badge of honor.
3. Germs.
I've never met a new BJJ student who didn't relax a but about their germaphobia. The rest of them quit. It's the nature of all contact sports : basketball, wrestling, hockey, boxing. You touch other people all the time. Sweaty people. You swap germs. You get over it. This is not to say that you don't need to do anything about it. We've covered some strategies for keeping that situation under control here. It's just part of the journey, and you will learn to relax about it.
4. Breathing
Your appreciation for the ability to breathe freely will skyrocket. It's because people will get on top of you and try to squish the breath out of you. You'll also learn to control your breath, and use it to calm yourself down. It's a beautiful thing. More on BJJ breathing here, and here, and here.
5. Sweat
It's everywhere, all the time. Everyone does it, some more than others. You'll learn that the amount you sweat doesn't really mean anything – some people sweat a lot, as soon as the warmup starts. Some people don't do it much at all. Sometimes ist's based on how you feel, how much you're hydrated, and what you've eaten.
Wait a second….. Why am I doing BJJ again?
It may seem, for a second, like being a beginner in BJJ class is an entirely unpleasant experience. Apparently, you can't breathe, you're covered in sweat, bruises, and germs, and you go home to do laundry. But it's not all suffering and unpleasantness. In fact, for many of us, BJJ remains the most engaging, challenging, enjoyable thing we've ever done. Part of why it's so rewarding is that we keep learning things, like these major lessons from when we were beginners. things.
6. Learn what your body is capable of.
Your body can do things you never thought possible. It can contort into crazy positions. It can survive pressure, and exhaustion. And it can control and conquer other bodies – even larger, stronger, more athletic ones. You will learn to appreciate your body in a way that you never have before. More on the body here.
7. What it means to have teammates.
Some of us played team sports as youngsters, and some of us didn't. Some of us have a sense of what it means to really be a teammate, and to have teammates. Sadly, many of us don't – even those who played team sports or who work on teams in their careers. BJJ classes will fix this for you. BJJ is not something you can learn by yourself – there is no "shadow boxing" in BJJ. You have to have training partners. So it forces you, and everyone else, to work together and support the team . As JFK said, a rising tide lifts all boats. The more that your partners improve, the more you will improve. This creates a sense of team, and it extends beyond the mat. When you show up for class, your teammates will be happy to see you. When you ask for help, you will get it. When you have a question, they will answer it. BJJ classes are one of the most welcoming environments I have ever seen.
8. The joy of learning something that initially seemed impossible.
This is probably the greatest pleasure that comes from being a BJJ beginner, because it is formed from the biggest frustration. Initially, BJJ seems impossible. You may actually think that your body cannot perform what you are being asked to do. You will likely struggle with things, and you may fail at them again and again. However, if you keep showing up, you will eventually succeed. There are few opportunities in life to face down this type of challenge. It's a unique situation, because no one can actually fix it for you. You have to learn to do it yourself. The feeling of satisfaction and accomplishment that comes from learning in BJJ class is intense and long-lasting. It makes the struggle worthwhile, and it will leave you hungry for more.
MORE INFORMATION ON BRAZILIAN JIU JITSU IN DENVER FOR CHILDREN AND ADULTS, VISIT HTTP://WWW.ALCHEMYMARTIALARTS.NET OR GIVE US A CALL 303.900.8111
WE SERVE THE CENTRAL DENVER AREA, INCLUDING THE BAKER, HIGHLANDS, WASH PARK, CONGRESS PARK, CAPITOL HILL, DOWNTOWN, UPTOWN, GOVERNOR'S PARK, AND CITY PARK NEIGHBORHOODS. WE'RE LOCATED NEAR 8TH AVENUE AND SANTA FE DRIVE, CLOSE TO EVERYWHERE.