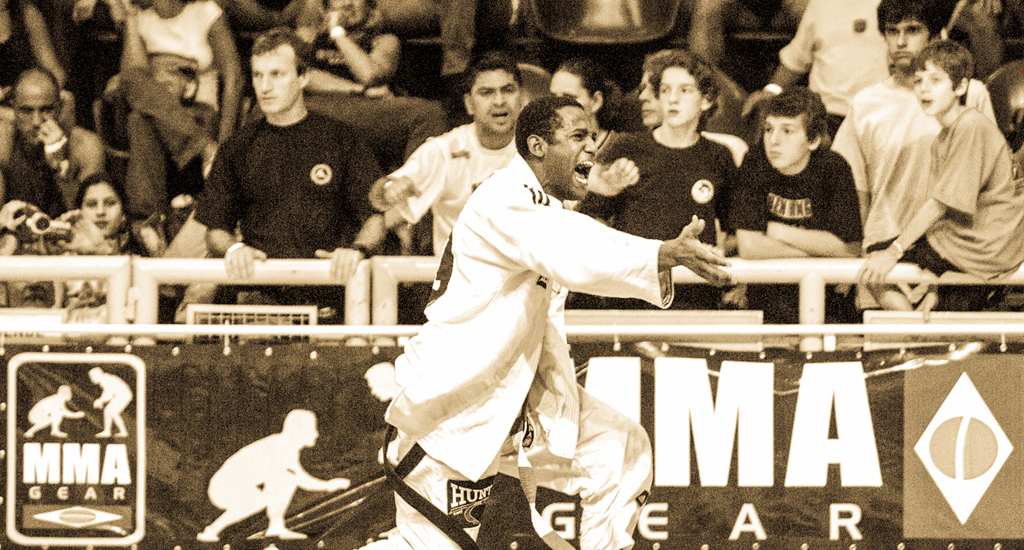 Fernando "Tereré" Augusto is a legend in BJJ circles. He won the world championship at every belt level, and has beaten legends like Rolles Gracie, Nino Schembri, and Marcelo Garcia. He rose very quickly to the absolute pinnacle of the art, and his legacy as the founder of Team TT lives on in famous BJJ students like Rubens "Cobrinha" Charles. Terere was always a crowd hero because he was the first poor kid from the slums to make it to the top. BJJ had always been a middle class sport, for those who could afford lessons, and Terere changed that. Today, there is a strong tradition of BJJ schools in the slums, often started, funded, and operated by famous BJJ stars. Terere's school in the Morro Do Cantogalo slum is still going strong.
But there's a downside, too. Terere lived most of his life with an undiagnosed, but serious case of schizophrenia. In 2004, Terere had an incident while flying to the US. He had an episode on the plane which resulted in him being arrested. He had a very difficult time in the American jail (because he spoke no English) and the episode resulted in a downward spiral of depression and drug addiction. Prior to this, no one really knew that he was struggling with mental health issues. Things continued to worsen for Terere and his drug addiction led him away from Brazilian jiu jitsu. He all but disappeared for several years, living as an addict in the slums of Rio.
Happily, he eventually was able to turn it around. He left Rio for some time to get clean, but it took several years before he made it into a rehab clinic. Once he did, however, the Brazilian jiu jitsu community rallied around him, providing many types of support for his recovery. Terere's recovery was especially difficult because he had to deal with his addictions and his schizophrenia, a very difficult condition to work with. Terere continued to improve and began teaching Brazilian jiu jitsu again in 2010. He returned to competition in 2012, winning a tournament in Mexico City.
What can we learn from this? Several things, I think. First, I think it's important to realize that we can never really know what someone else's struggles are. People that seem to be doing very well can in fact be barely holding it together. It's important to remember this every day, with every person you come across. If I can relate to people from that awareness, compassion, kindness, generosity, intelligence – all the qualities I want to manifest – flow. If not, it's easy to be an ass. I find this quote consistently helpful:
Be kind, for everyone you meet is fighting a hard battle.
Ian MacLaren, d. 1907
Secondly, the power of the community you surround yourself with cannot be overstated. Terere's story is about two communities the Brazilian jiu jitsu world, and the slum. Both were very important to him. When he remained connected to the BJJ community, things went well. In fact, as soon as the BJJ community learned that he was a in rehab in Rio, support poured out for him. The community reached out to pull him back in. As Terere struggled with addiction, however, he fell out of that community. He fell back into the very difficult slum neighborhood he was born in. That proved a very difficult trap to escape from, and cost him many years of his life. The community that you choose has more power than you can realize. It will be there, for good or bad, if your life heads downhill.
Thirdly, Brazilian jiu jitsu builds mental toughness that you'll have throughout the rest of your life. The mental strength required to pull yourself out of a simultaneous drug addiction and schizophrenic breakdown is immense. I don't think anyone who hasn't been there can really understand it. There's a bit of speculation to this, but I think that without the toughness Terere had acquired from training, he wouldn't have survived. It's hard enough to get past drug addiction. But to survive the slums, get it together, and get yourself into mental health treatment? That's an all-out war. I hope none of us ever faces that. Whatever we do face, I hope that we can marshal the best of what Brazilian jiu jitsu has taught us.
For the rest of Terere's story, cruise over to BJJ Heroes. To see the rest of the video above, check out BJJ Hacks. For a truly tear-jerking story about Terere's student Alan Finfou holding on to Terere's actual black belt for 8 years, hit OKKimonos.
FOR MORE INFORMATION ON MARTIAL ARTS FOR CHILDREN AND ADULTS, INCLUDING BRAZILIAN JIU JITSU AND JUDO IN DENVER, VISIT HTTP://WWW.ALCHEMYMARTIALARTS.NET OR GIVE US A CALL 303-900-8111
WE SERVE THE CENTRAL DENVER AREA, INCLUDING THE BAKER, HIGHLANDS, WASH PARK, CONGRESS PARK, CAPITOL HILL, DOWNTOWN, UPTOWN, GOVERNOR'S PARK, AND CITY PARK NEIGHBORHOODS. WE'RE LOCATED NEAR 8TH AVENUE AND SANTA FE DRIVE, CLOSE TO EVERYWHERE.